WICKMAN CUP WON BY APPRENTICES !
WE CONGRATULATE our apprentices for their display of tenacious determination in winning The Wickman Cup, for the first time. Most large organisations entered an apprentice team in this competition and to win the trophy is not easily achieved. Standard-Triumph beat Lockheed, Leamington, by 2 goals to 1 — after more than extra time !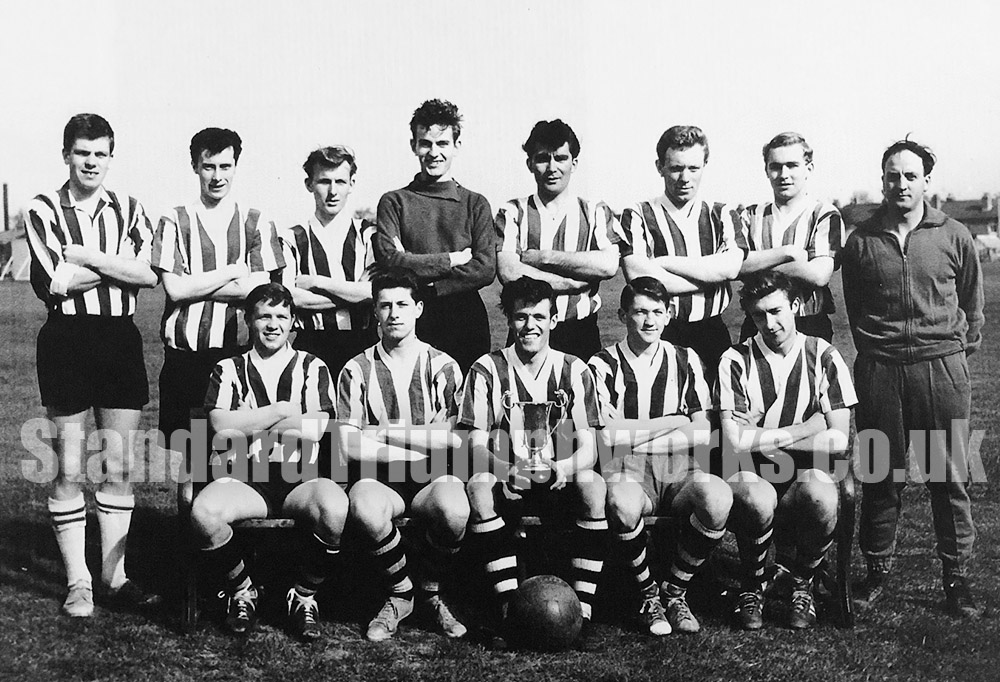 Players who have represented our apprentice team in the Wickman Cup rounds are :— back row (I. to r.), Arthur Oldroyd, Monty Moreton, B. Wale, R. Brookes, Barry Buckley, Ernie Jones, Bill Bullivant, and Graham P. Parham (Coach). Front row, Dave Morgan, Lew Temel, Colin Wyatt, A. Turrall, and Terry Alcock. C. Turnbull was absent injured when the group photograph was taken.
The Final was played at the Butts Stadium on Friday, May 10th in pouring rain.
Standard settled down quickly and had plenty of midfield play but failed to produce the necessary finish. Lockheed had breakaways, but these were capably dealt with by our defence.
HIT THE BAR
Temel had had bad luck for Standard when a good shot hit the underside of the bar and came out again. Standard lost some of their cohesion and Lockheed began to press. Then a glorious through ball by the Lockheed inside-right inside our full-back, gave their left-winger a chance which he took in fine style. So Standard were a goal down at half-time.
SECOND HALF
After the interval, the ding-dong battle continued. Buckley blocked the middle very effectively, but again, our forwards were failing to shoot on sight. From a Moreton corner, Bullivant had a continental overhead kick shave the post!
STANDARD SCORE
After 55 minutes, Standard equalised. Temel worked his way down the right and hit a low ball across goal. Morgan, our left-winger, chased in and mixed up the goalkeeper and centre-half and the ball was in the net!
Standard had further shots from Bullivant, Oldroyd, and Alcock, but the Lockheed goalkeeper saved each one. Then Lockheed had a breakaway, but Wyatt and the defence kept them mostly in a tight grip.
EXTRA TIME
At full-time, there was no further score to extra-time was played. Again, play swung from end to end and still it continued to rain very heavily. Half-time arrived, the teams changed round, but there was still no score at the end of the extra-time. The captains tossed up again, and this time it was play till a goal was scored — the final decider.
THE WINNER
With eight minutes gone, Moreton on the right wing went down the wing, beat his back, drew the centre-half, beat him and although falling down, put in a good shot which the Lockheed goalkeeper brilliantly parried but couldn't hold. Morgan rushed in to place it in the net for Standard. Both Morgan and Moreton disappeared as their colleagues swarmed over them with congratulations!