As it's World Book Day today, we thought we'd remind you about our Triumph Herald Book, we put together, with all funds raised going to this Standard Triumph Archive.
We applied to the National Lottery for funding this archive, who sadly declined,
so this book is currently the only method of raising funds (with the exception of donations) that this website sees. It's also a brilliant book – and that's not just us saying that, it's all the happy customers, leaving great feedback – we've added some below. So if you'd like to help this website – and are interested in both the Triumph Herald and Standard Triumph around this turbulent time – then we have the perfect solution.
Featuring over 150 rare period photographs, articles and memorabilia this Limited Edition 48 page book takes a look into the incredible journey of the Triumph Herald – against all the problems of suppliers, cashflow, management and disruption – the popular Triumph Herald came out on top!
YOU CAN ALSO ORDER THE BOOK VIA THIS LINK
The book follows a month-by-month timeline from the initial concept through the first years of production and up to the takeover by Leyland Motors in 1961. Featuring key dates and cars this is a fantastic resource and must for fans of Triumph and the Triumph Herald.
Limited to just 948 copies worldwide. In stock and available NOW! Once sold out it will NEVER be available again.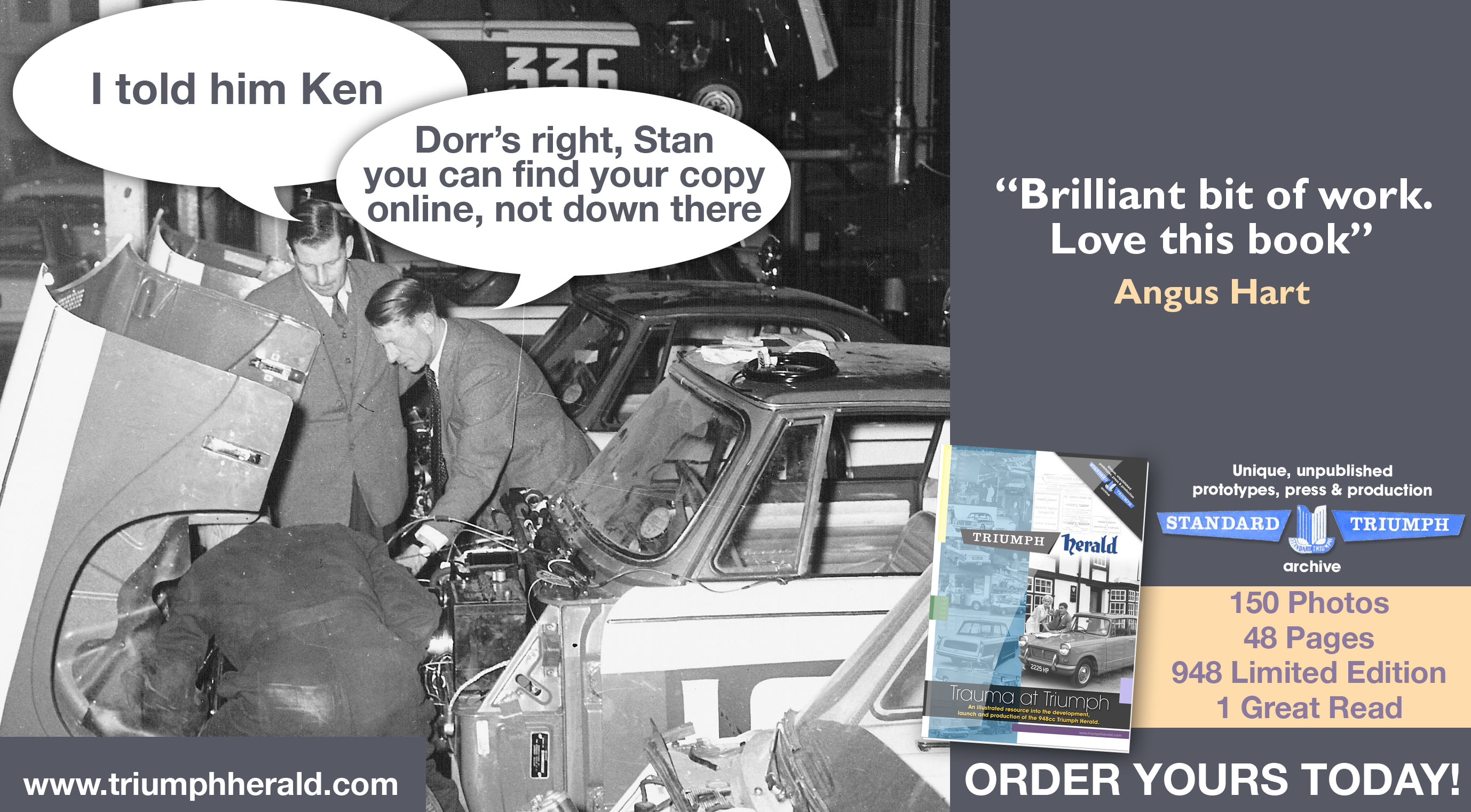 Testimonials:
"If you are interested in the history of our cars then I thoroughly recommend this book" Phil Willson, TSSC (Triumph Sports Six Club) Courier Magazine. #123
"Got mine today and I have to say, WOW, it is a fantastic publication and a lot of work gone in to produce. Thanks for doing this. I am delighted with the book and I cannot recommend it enough, all Herald owners should get a copy. Well done to all concerned." Ken Nolan, Dublin
"My 'Trauma at Triumph' safely received this morning, and duly whizzed through at high speed! I'm very impressed, not only by the production but also the concept – what a brilliant idea!" Mike Costigan #7
"Brilliant bit of work. Love this book." Angus Hart, Somerset. #86