"That's me!" says Tinsmith Arthur Oldroyd – in the Tug of War Team.
The things you find when you're on lockdown, browsing on the computer I find a site dedicated to former employers of Standard Triumph. Absolutely brill!!
So, I have collected a number of photographs relating to my days at the Canley plant. I have so many memories of my time there I could write a book.
I hope you find the photographs useful, some are duplicated, never the less, I'm sure they will be of some help in your project.
I remember my first day entering the workshop, it was like Dante's Inferno, hammers going ten to the dozen, arc welding, spot welding, forklift trucks dashing about, pipe bending, guillotine, press brakes, wow it was a real eye opener.
Anyway I survived to tell the tale, met some great characters, after my apprenticeship I finished up in the experimental department working alongside a good friend Terry Alcock. We spent some years in that department until we both  moved on to pastures new entering the world of further education.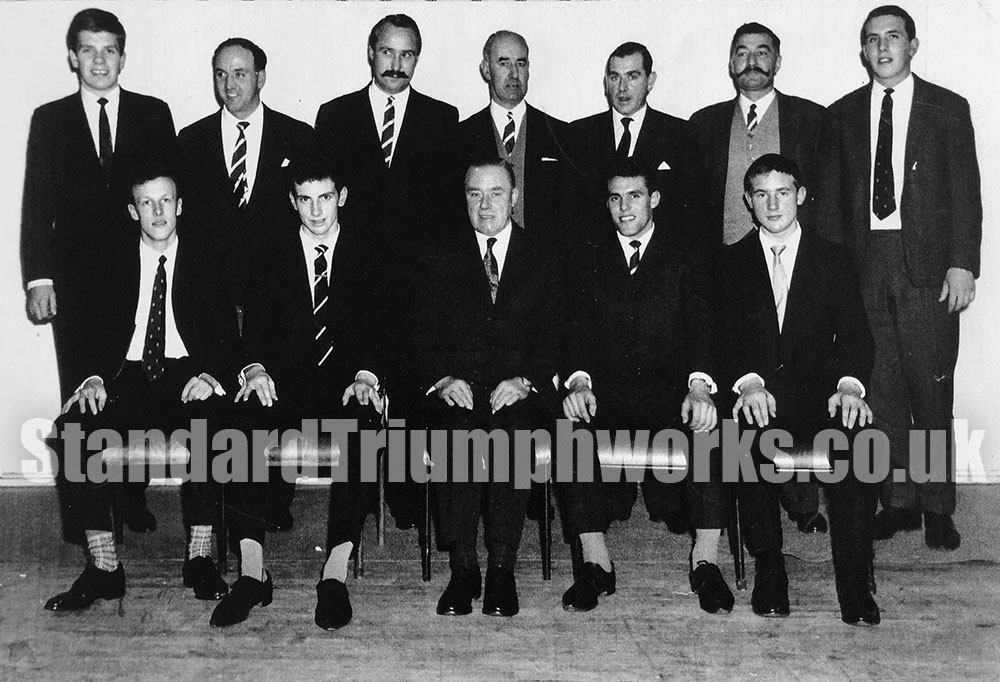 Here's photo number one – fresh-faced apprentices.
Arthur can also add some of the names – can you help fill in the blanks?
Italics are our guesses and we'll update when we have further info.
Back Row L to R:
Arthur Oldroyd, Gordon Parham, Lloyd Ward*, Bill Wanley*, George Key* (W. L. Price, (Bill*) Education Officer, ED) , Terry Carter.
Front Row L to R:
? ? ? Colin Wyatt ?
* Additional names confirmed by David Mileham.
Names to pass by you apart from the ones you already know. Danny and Alf May, Eddie Godfrey (great footballer), Eddie Parry and Dennis……….., Harry Catlin, these guys worked on the general maintenance of the factory.(extraction ducting, machine guards etc  etc) . There was a section of gas welding, brazing and soldering and the only name I remember is Harry Stanley, soon to be Lord Mayor of Coventry. Other names into the mix, Bert Matthews, Bill Wise, Dave Gibson, Stan Rowney, Harry Ralston, Bill Warman. Bill Murray (pipe-bending).
Four guys making body panels, one on a huge bandsaw, 2 guys working guillotine and press brake. A very busy workshop and a great set of guys, singing in harmony was a joy amongst all the noise.
I finished up in Experimental Department working with Jack Hilton, Ben Poole, Frank Elkington, Alf Murray, Harry Hawton and Terry Alcock, all tinsmiths. Other people there you already know Les Atkins, Cox brothers, Peter Clark etc etc.
Hope some of  this is useful, I could go into greater detail, oh and just one small detail I played football for Coventry tinsmiths against Birmingham tinsmiths, it's all coming back to me now!!! Lots more people but sadly all lost in the passage of time.
More to follow…