Frank Kershaw Lord.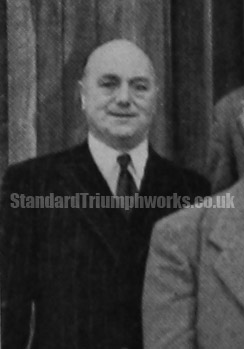 Consultant, Standard Motor Co., Ltd., from January, 1959
Born April 5, 1893
Served apprenticeship with John Holroyd and Co., Ltd., Milnrow.
1908-14; served with Royal Flying Corps, 1914-18; on engine testing with W. H. Dorman and Co., Ltd., Stafford.
1919-23; ratefixer with James Archdale and Co., Ltd., Birmingham, 1923-25.
Chief process and planning engineer with Triumph Cycle Co., Ltd., Coventry. 1925-35; Production Manager, Standard Motor Co. Ltd.,
1936-50 Special Director (Plant)
1950-56; (Plant and Planning)
1956-58; member of Council, Production Engineering Research Association of Great Britain.