Following on from the earlier post of the Wages Agreement photograph, full details have now emerged from this agreement.A new wages agreement was recently signed between The Standard Motor Company Limited and the Confederation of Shipbuilding and Engineering Unions. It was most enthusiastically received generally, the National and Provincial Press devoted considerable space to it and the BBC described it in their news bulletin.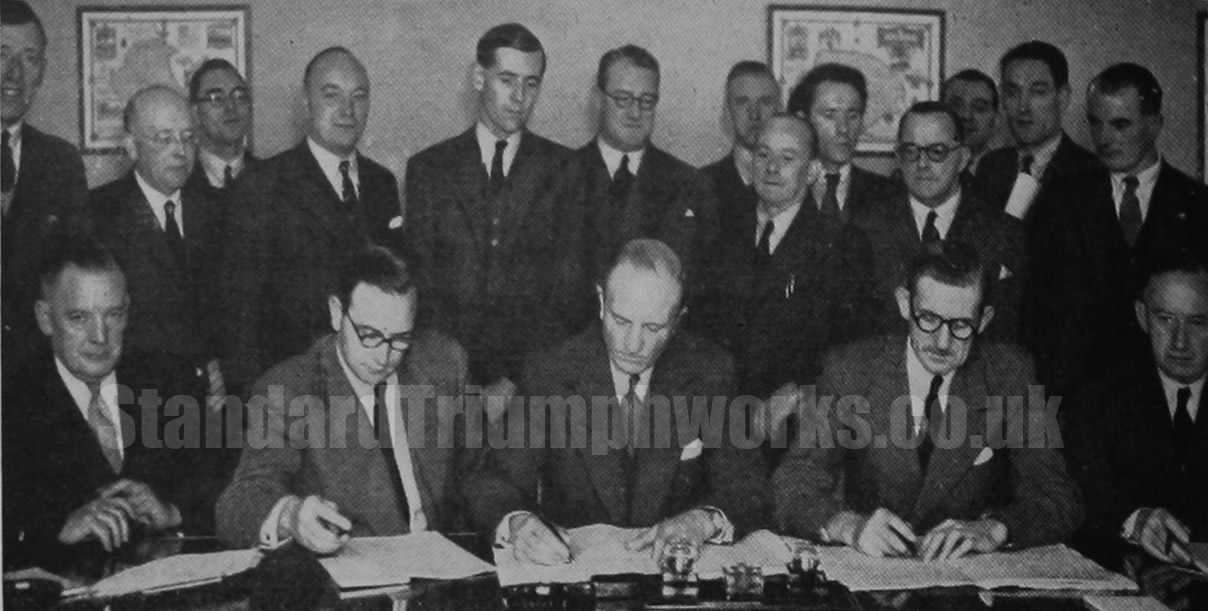 From its conception the agreement was intended to establish several long overdue reforms, i.e., The provision of a new in-centive to employees, a greater security of wages, the replacement of the piecework system; the elimination of wage inequal-ities between various sections and the creation of a greater team effort within the organisation.
In its final form the agreement therefore: 
(1) Gives a higher status to the average worker by guaranteeing a much higher basic wage than previously enjoyed, and by paying an additional and separate bonus related to effort.
(2) Creates the smallest number of the largest possible production teams, the bonus payable to each team to be dependent upon team effort.
(3) Replaces the existing ninety-two different BASIC wage rates paid in the Company, by adopting a new scale of only eight, and guaranteeing a minimum of £5 per week for men adults and £3 15s. 0d. for women.
(4) Formulates a bonus scheme payable to both direct and non-direct workers, related to the productive efforts of the production teams. The BASIC wage rates fall under eight headings, as opposed to the ninety-two different grades of payment used in the old and now obsolete system.
The new rates are : 
(1) Skilled workers now fall into three categories with BASIC rates of £6 16s. 0d., £7 4s. 0d. and £7 16s. 0d.
(2) Production and Process workers previously classed as semi-skilled workers, will operate under one BASIC rate of £6 8s. 0d.
(3) Storekeepers, labourers and those not engaged on direct production, will be covered by BASIC rates of £5 4s. 0d., £5 8s. 0d. and £6 0s. 0d.
(4) Sweepers and cleaners will receive a BASIC rate of £5 Os. 0d.
(5) Workers will be grouped into large production teams and a bonus will be paid in addition to the BASIC rates. This bonus will depend on output and team effort and for existing effort will be between 80% and 90%.
(6) When new components 'or methods are introduced, the bonus will be calculated so that the production team or teams can earn a minimum bonus of 50%.
(7) Indirect workers will receive a bonus of between 40% to 50% for existing efforts.
(8) Women workers will also enjoy increased benefits from the new agreement. Their BASIC rates will be £4 10s. 0d. and £4 16s. 0d. In addition they will receive bonus
payment.
Under this new agreement a substantial guaranteed wage is provided at a rate of £5 0s. 0d. per week for men workers, and £3 15s. 0d. per week for female workers.
This replaces the thirty-four hour time rate guarantee in the Engineering Industry. If overtime is worked, payment is expressed at an hourly rate instead of as a percentage of the base rates.
Holiday payments will be higher, as workers will now get one week's pay at their new basic rate.
The number of employees affected by this new wage system at The Standard Motor Co. Ltd. is approximately 10,000.
The Company and the Confederation of Shipbuilding and Engineering Unions believe that the terms of the Agreement will further improve the excellent relations which exist between the Company and all its employees, and provide increased productivity per man-hour and greater efficiency throughout the whole of the Company's factories and activities.