I started work as a Commercial Apprentice on September 7th 1964. I had to report to the Employment Office for 8.30am.
Once the formalities were sorted we were taken to the Training School at the far end of Torrington Avenue. Some names that spring to mind are Roland Whittaker, Steve Kenny, Martin Lewis, Dai Nicholas, Alaister Jameson, Paul Litchfield, Paul Bates, Pete Priestley, Alan Pinder, Mick Barlow, Paul Carpenter, Chris Bromley, Charlie Fellows, Jim O'Grady. I'm not sure whether I met all these individuals on the first day.
Later on I met Robin Toogood and Bill Wylie when we attended the College of Commerce in Wednesbury on block release. In 1964 Eddie Bishop was the Training Supervisor. John Hedley was the Training Manager at the time, although we never saw much of him.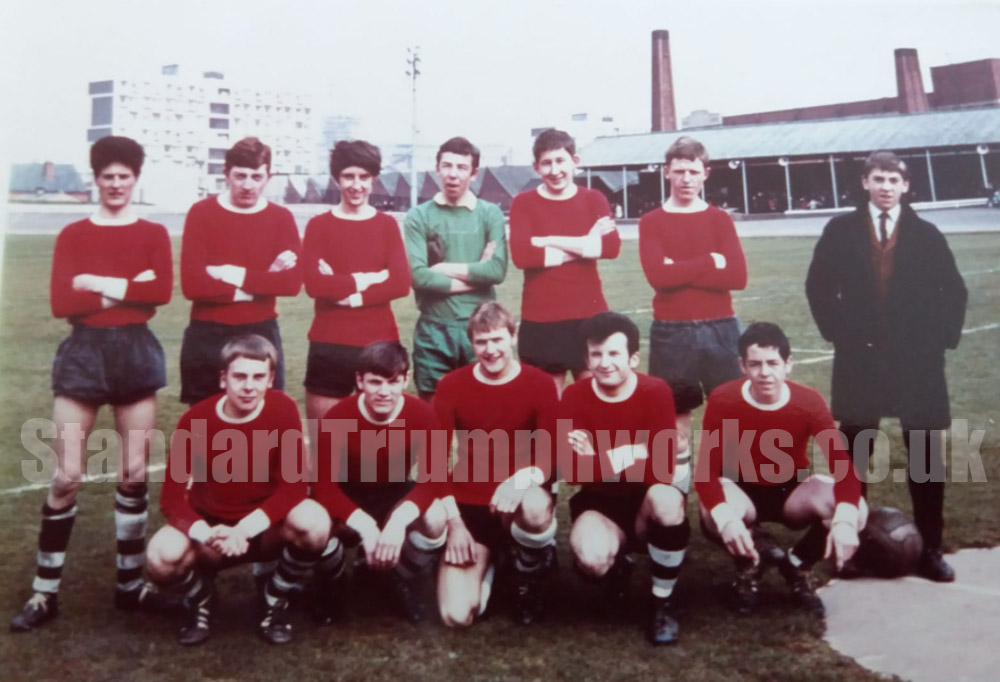 I played for the Apprentices Football Team for a couple of seasons in the local Sunday League. It was managed by Tom Hallgarth. In the 1966/67 season we reached a cup final and played at the Butts Stadium (as it was then). We lost….by quite a big score, but it was quite an experience.
I completed my apprenticeship in late 1969 and was given a job on one of the
teams in the Cost Office. At that time Ralph Lawrence was the Cost Office Manager and Brian Skelcher was the Cost Office Supervisor. Tom Braund was my Section Leader. I knew Tom from my time in Spencer House at Woodlands School. He was a House Monitor in the 4th Form when I started Woodlands in September 1958.
In time, Brian Skelcher left and Tom became the Cost Office Supervisor.  For some reason unknown to me I was the appointed as Section Leader in his place. Some names I do remember on the team were John Forster, Phil Moore and John Bowerman. Apologies to those people whose names don't spring to mind. I came across some photos on your website taken in September 1969, (when I had  not long been in the Cost Office). They were taken at the leaving presentation of Anne-Marie Mabbs, (see Cost Department Part 1 and Cost Department Part 2).
I remember Pete Russell and Mike List as well as numerous other employees at the time. I left at the beginning of 1971 (I think) and worked in Warwick for a company called Turriff Construction Ltd. In January 1981 I started work in the City Treasurer's at the City Council. I worked there until I retired in November 2007. Coincidentally during this time I came across Brian Skelcher briefly. Small world!
UPDATE:  I was a technical apprentice from 1964-69. I well remember Geoff Smith and others in your archive. It was good to see Derek Hitchens in other photos. He was a young inspection foreman at the time when I was a young line foreman. Paul Litchfield