This great photograph is when – early 1950's? – and a busy trio. Sir John Black, Alick Dick and an unknown lady – can you help identify her?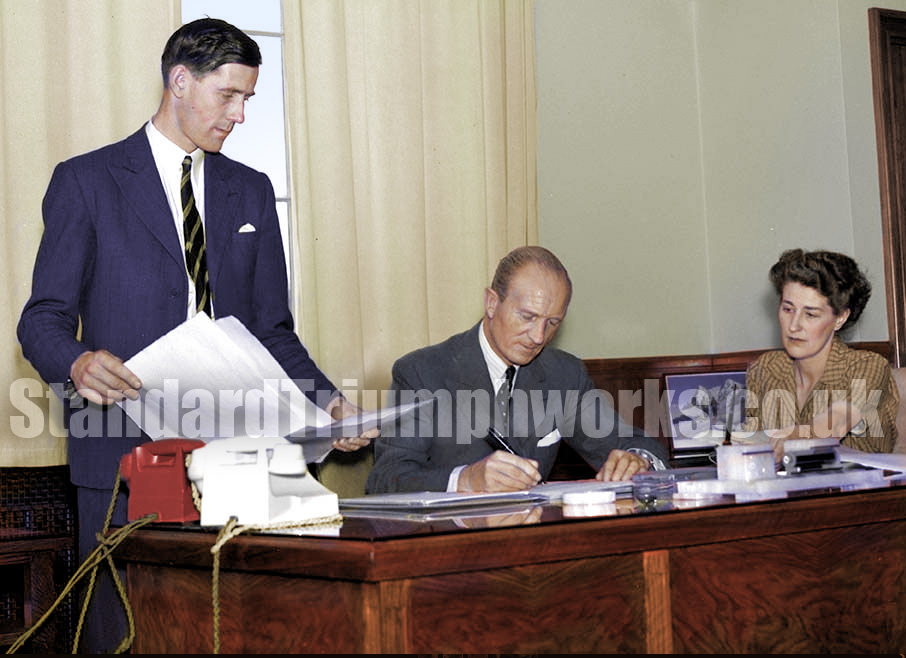 One early reference to a secretary to Sir John is for Edna Taylor. This would have been early thirties – possibly when Black took control of the Standard Motor Co in 1934.
Sir John Black's personal secretary 'in the war years' was Joan Smart. Is this Joan? Joan has also been recorded still employed in 1950.
Another name is Dorothy Squires – referred to as Sir John's secretary – she was involved in a car accident and 'was never seen again.' Arthur Lusson was Sir John's Personal Assistant  from 1951 to 1955. The car accident occurred on Lusson's first day as the PA to Sir John – 1951.
Sir John was forced to retire in January 1954, with Dick then taking over as Managing Director of Standard Triumph.
UPDATE: 
The lady in the photograph is indeed Joan Smart.  She was my mother's best friend from an early age.  Joan remained a family friend until her death in the early 70's.  She was a wonderful character, and talked fondly of her days as Sir John's secretary.  She and my mum were often invited to Sir John's home at Mallory Court to swim and play tennis.  They were both very attractive young women so no doubt Sir John enjoyed their company!!
Judy Sutton
Ex – Coventry
Now in Australia