November 3rd, 1953 at Banner Lane. Sir John Black and Ken Richardson were testing the Swallow Doretti Prototype (Registration 623E). Suddenly a Works van, came out of a turning unexpectedly. Ken swerved the car to avoid killing them both in a headlong collision.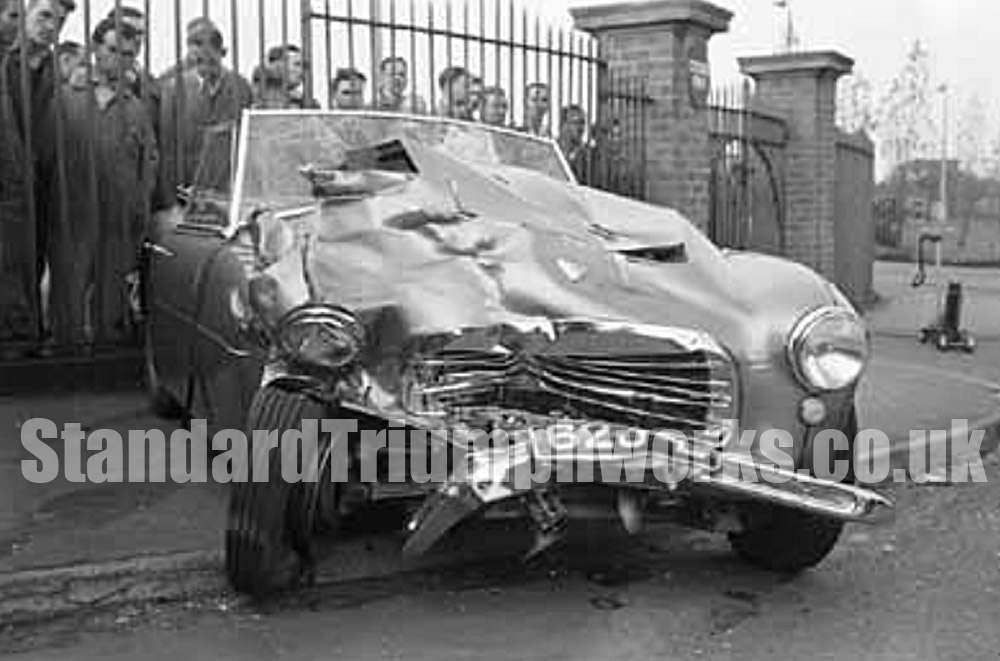 The van driver, Albert Cross (of 69 Graven Road), had to be treated for shock after his vehicle spun round with the impact while Ken himself sustained serious injuries to his forehead resulting in having 47 stitches and nearly losing an eye.
Arthur Luson, the personal assistant, who actually saw the van lift off the ground, and Frank Golding, the chauffeur, pulled Black from the wreckage believing that he was dead.
A bicycle which had been left near No.2 Gate, Banner Lane Factory was demolished in the carnage. The owner Mr A. Cotton of 19, Franklin Road, Nuneaton then put in a claim for a new one stating that he couldn't get to work with out it! £16 was duly awarded by the Standard Motor Company which he gratefully acknowledged on 16th November 1953.
On 1st December 1953 a memo stated Black was in the South of France for a short period of recuperation. A press release of 5th January 1954 simply related: "Sir John Black of Longfield, Bubbenhall, has resigned as Chairman and Managing Director of the Standard Motor Company as a result of injuries sustained in his accident of the previous November."
That was the official verdict. On 23rd March 1954, he receive £1,500 as final settlement of his personal injury claim.