Roger  Patrick Hodgkinson was born in July 28th, 1911 and served his apprenticeship with the Standard Motor Co from 1928 to 1931.Hodkinson later worked at Standard Triumph dealership Hollingdrake Automobile Co. Ltd (Based in Stockport it was THE most influential independent ST dealership in the UK) starting as Cost Clerk, working his way from Salesman to Branch Manager, Sales Manager, Sales Director and, in 1953, Managing Director.
Hodgkinson, like many past and current employees of the Standard Triumph Motor Co, served in the Far East during WW2 and became a Prisoner of War. Hodgkinson himself, as a Major, was captured with the R.A.S.C 18th Division in Singapore in February 1942 and spent the war in terrible conditions finally being demobilized in January 1946.  We hope this post will encourage more names to be forwarded from the families of those employees of the Standard Motor Co – and Triumph Motors who served.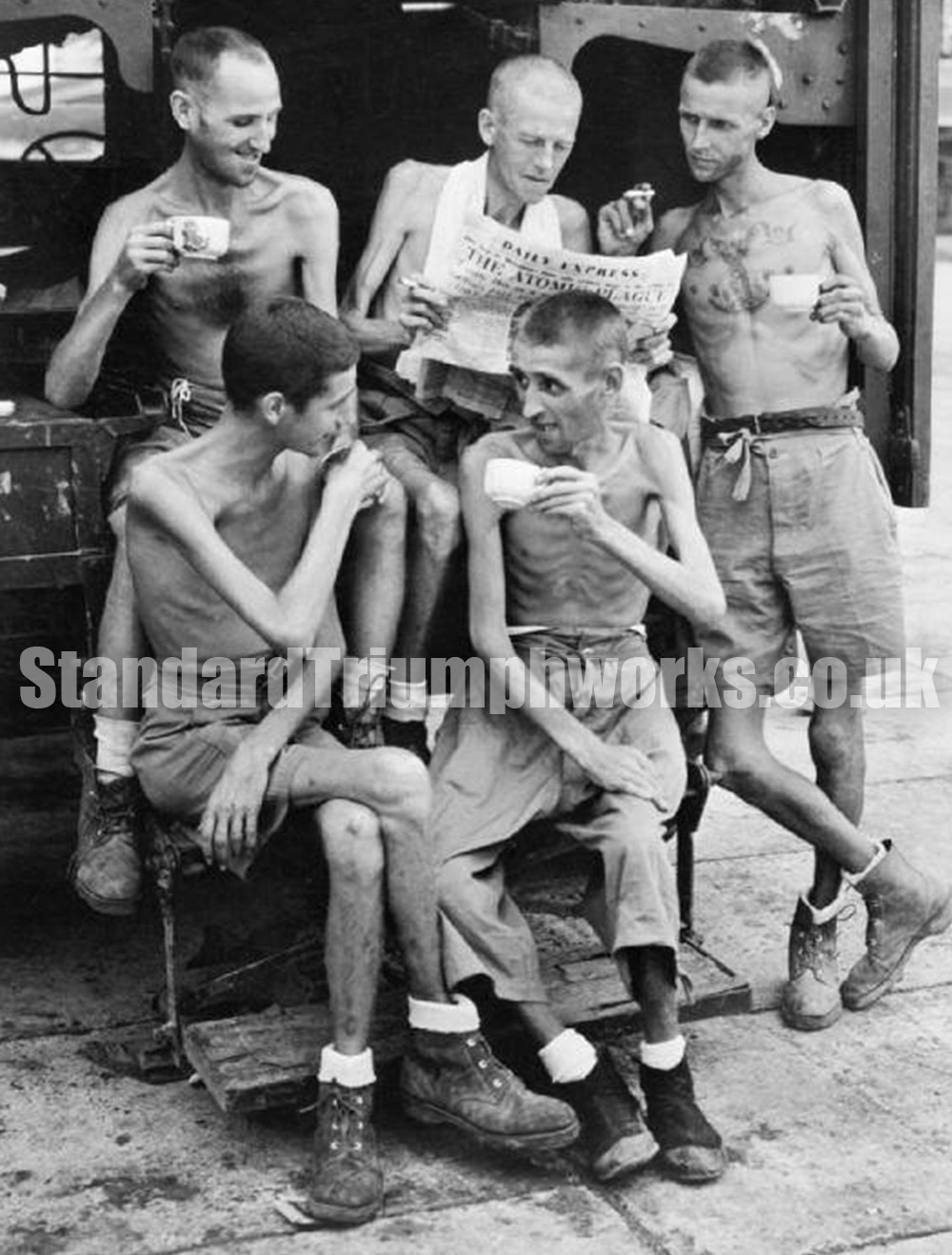 We are also happy to include this text to support this initiative:
For those who had survived the long years of captivity in the Far East and seen many of their comrades die horrible deaths, it must have seemed very hard to believe that their ordeal was at an end when VJ Day – and freedom – finally came. Private Alf Davey was one of thousands of prisoners across South East Asia who, in the final days of the war, had been put to work digging trenches around the camp perimeter. Upon hearing someone say that the war was over, he later noted, 'We didn't dig any more that day.  We went back to the camp and told the other lads what we had heard.  Some didn't believe us. Many just cried. I had been a prisoner of war for three and a half years and now the war was over!'
And this was Aircraftsman Harold Prechner, writing a letter to his sister days after receiving official confirmation that the war had ended: 'My heart is so full…that I cannot fully express my thoughts and emotions…I cannot really grasp yet that the war is all over and that very soon I shall probably be leaving for home. Events of the past few days have been so crowded and exciting that they will forever live in my memory.'
The war was indeed finally over for these men, but their suffering was not, as it soon became very apparent that they had been indelibly marked by their years of captivity and that they would bear the physical and mental scars for the rest of their lives. The majority needed repeated hospital treatment for a range of tropical diseases and the long term effects of vitamin deficiency. Many years later, Fusilier Jim Swordy noted, 'Counselling was unheard of at the time of my return from Japan. Over the years I have suffered from nightmares, which have induced me to fight and cry out in my sleep…I have often punched and kicked my wife during these nightmares, and on one occasion even bit her. I still suffer from the nightmares even after all these years.' (all extracts are from 'A Cruel Captivity', Pen & Sword, 2018)
These men were proud to have served their country and the time is long overdue for them – and all those who served in the Far East in WW2 – to be given the recognition they deserve. Although the recent VJ Day petition did not achieve sufficient signatures to prompt a parliamentary debate (yet), it raised awareness of the need for these men to be honoured and attracted the support of a number of MPs. The more MPs who support the establishment of a national day for VJ Day, the more chance there is of getting it debated in parliament, so if you're reading this and believe that those involved in the war in the Far East deserve to be remembered in this way, please contact your MP and tell him/her.
The petition may have closed but the campaign to achieve a national day for VJ Day continues.