A close up of a popular photograph and the development of the Triumph Stag.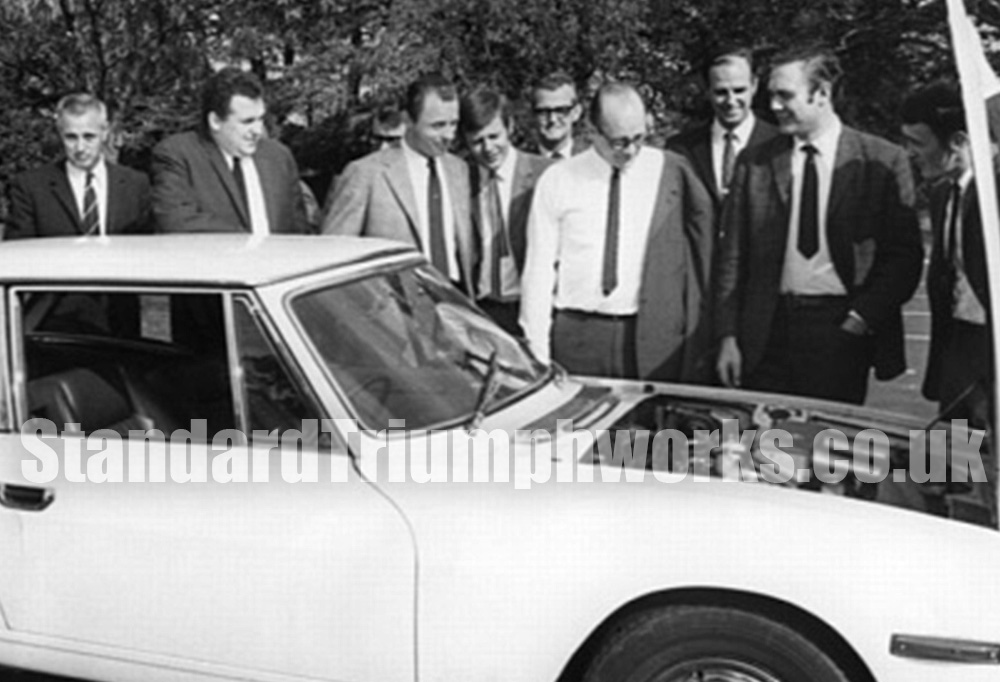 Second in on the right is John Whittall and fourth right (we thought – ED) is Harry Webster*, can you help recognise anyone else?
UPDATE from Peter Robinson, Registrar. Stag Owners Club
The photograph is not of a prototype (we originally labelled the post as such – ED) but of one of the pre-production cars used for the press launch.
*I also do not think that the person in the photo is Harry Webster.  In that Mr. Webster was of similar stature, wore glasses and was 'thinning' on top, the person looks like Mr. Webster but the stance and the detail indicate to me that it is not him. I think that you will find that he is one of the party who is being shown over the Radford plant by John Whittall.  Mr Webster left Triumph three years earlier and was working at Longbridge at that time.  Unless the party is actually a party from Longbridge taking the opportunity to look over the other plants in the group, I cannot see why Mr. Webster would be in the group, and even then, I still cannot see why he would be there as he must have known the plants backwards.
The Stag had been released to the public on June 9th and this photo was taken in September. If any car was being shown to a group of 'outsiders' it is unlikely that one of the prototypes would have been used as a demonstrator and there is no reason why any of the prototypes would be at Radford. The black sticker on the front offside panel over the radiator shows the car not to be a prototype but is from the production side. It is  probable that the car is one of the pre-production cars which were used as press demonstrators. It looks as if the interior is red, rather than black, in which case it is probably one of LD4, LD5, LD6 or LD11 (RVC 425H, RVC 426H, RVC 427H or RVC 432H but I can't tell from the outside which one it would be.