The Standard Motors Cricket Club was formed in 1931 and still exists today. The club is now called the Standard Cricket Club, dropping the name 'Motors.'
From the Standard CC website:
Standard CC was formed in 1931 as Standard Motors Cricket Club, playing in the Coventry Works Sports Association League, wining Div 1 in 1936 & 1937. Standard joined the Coventry District League in 1939 and by the 1940's had three teams:
Standard Aero 1 (playing at 'the old' Co-op ground)
Standard Aero 2 (playing at Banner Lane)
Standard CC (playing at Tile Hill Lane)
Records throughout the late 40's and early 50's are sketchy* but we know there was a Ladies team in the early 1950s alongside the men's team. Several of the Flick family played for Standard Motors teams during this period, including Charles, Harry, Sid and Patricia**. The cricketing dynasty continued with Barry and Clayton. Barry was a member of the Warwickshire squad in the 1970s and also played for C&NW. Sadly Clayton lost his life in the Lockerbie bombing.
Neil Garland joined the club in 1957 and at this point there were two pitches at Tile Hill Lane, whilst also sharing with Massey Ferguson. In 1960 Massey Ferguson left and Standard went to play at Banner Lane.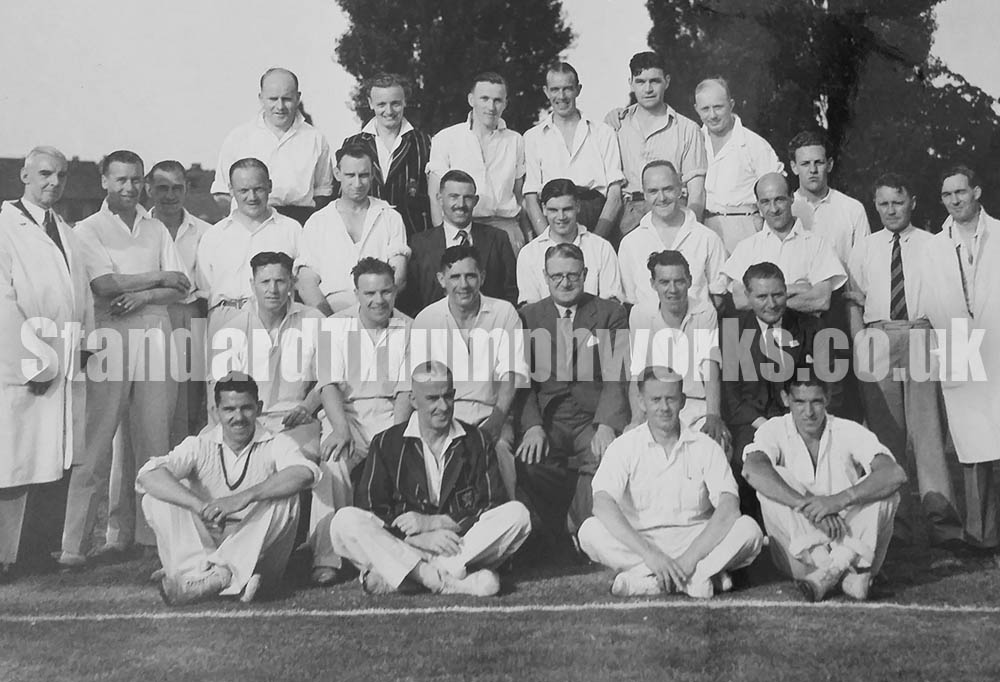 (Above). This is the earliest photo we currently have, dated early thirties*. Harold Weale can be seen (Suit, glasses centre) and Jock Brown (seated front left).
*UPDATE:  I can advise that the photo is not early thirties but around 1950. My father Owen Glyndwr Morris born 1922 is back row third left, and his older brother, my uncle Bill Morris is back row far right. My Dad was a batsman and Uncle Bill was a fast bowler. They played for the Standard CC for several years during the late forties and early fifties. Submitted by Linda Bennett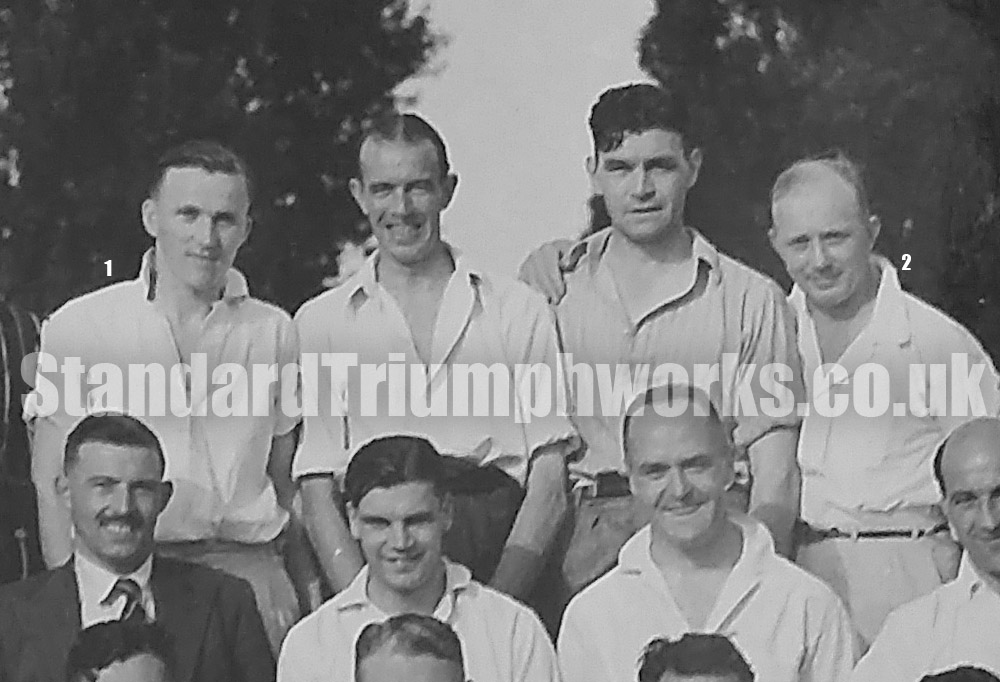 Above: 1, Owen Glyndwr Morris and 2, Bill Morris
Thank you Linda Bennett. We love new info coming in to correct the archive to ensure it remains as accurate as it can be. ED

Later info and teams.
Cricket teams
Alick Dick XI Cricket Team 1950
http://www.triumphworks.co.uk/standard-triumph-cricket-team/
Ladies Team c1950
http://www.triumphworks.co.uk/cricket-ladies-team-c1950/
* Can you help fill in any details?
** No current reference to any Flicks. (ED)