A great period photo of a Standard Triumph Cricket Team.
With many departments having teams, in addition to the First X1 Standard Triumph team, we'd love to find out more about this particular photo and any names associated with. This is reputed to be the works team and we would suggest around 1950.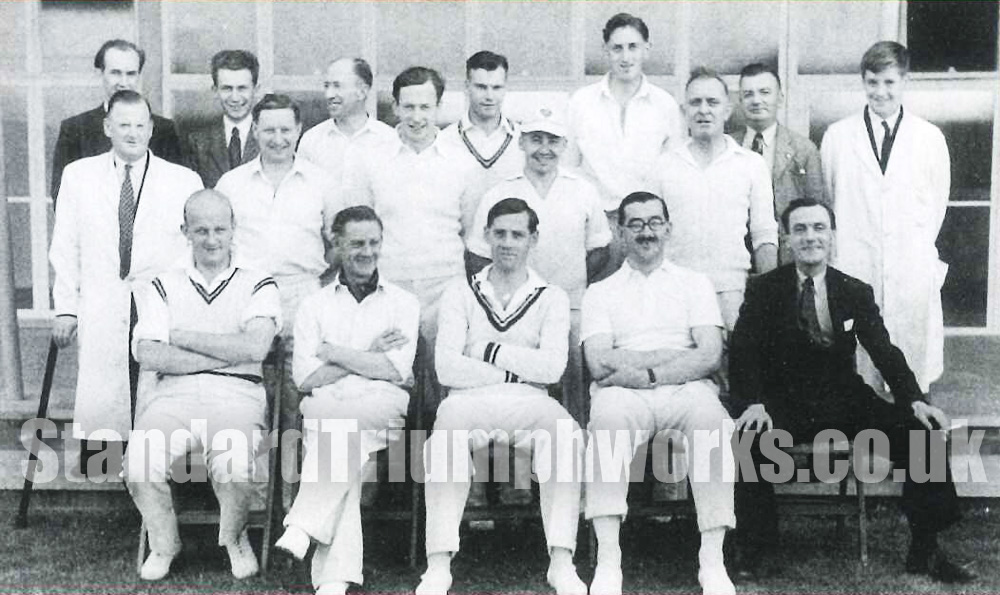 We can positively identify a couple of faces on the front row: Ivor Penrice (Publicity Dept), first left. Alick Dick centre and next to him (r with glasses) is John Murrell (Service Manager).
Additional names: Davis, Haigh, Hedley and Roberts.
Can you help recognise anyone else?
UPDATE: Date of match – 19th July, 1950.
On Wednesday, 19th July, a challenge cricket match took place at Canley between Mr Dick's XI v Coventry Wanderers. Under perfect summer evening conditions, the Wanderers XI having won the toss, elected to bat on a wicket which,. previously moistened by a shower in the morning, now appeared full of runs. Augmented by several members of the Coventry and North Warwickshire Team and Fred Dillam of Courtaulds, the Wanderers appeared a powerful batting combination, but against the variation of Haigh bowling his leg breaks at one end and Davis at full pace at the other, five wickets fell for the paltry total of fifteen runs. On switching the attack to the captain at one end and Watson at the ether the rate of scoring mounted, however, and the Wanderers eventually completed the twenty overs, having scored 103 for eight.
On resuming play Mr. Dick's XI met with early disaster, losing Davis run out after a faulty call, Haigh caught out to a very fine catch at long off and Hedley bowled by one which came in sharply from the off. Following these early setbacks, the batting really never appeared to be on top, until with the advent of Messrs. Murrell, Dick and Roberts, the tail commenced to wag, the two latter batsmen being undefeated at the close of play with the score at 79 for nine. So ended a most enjoyable evening's cricket which preceded a highly entertaining evening.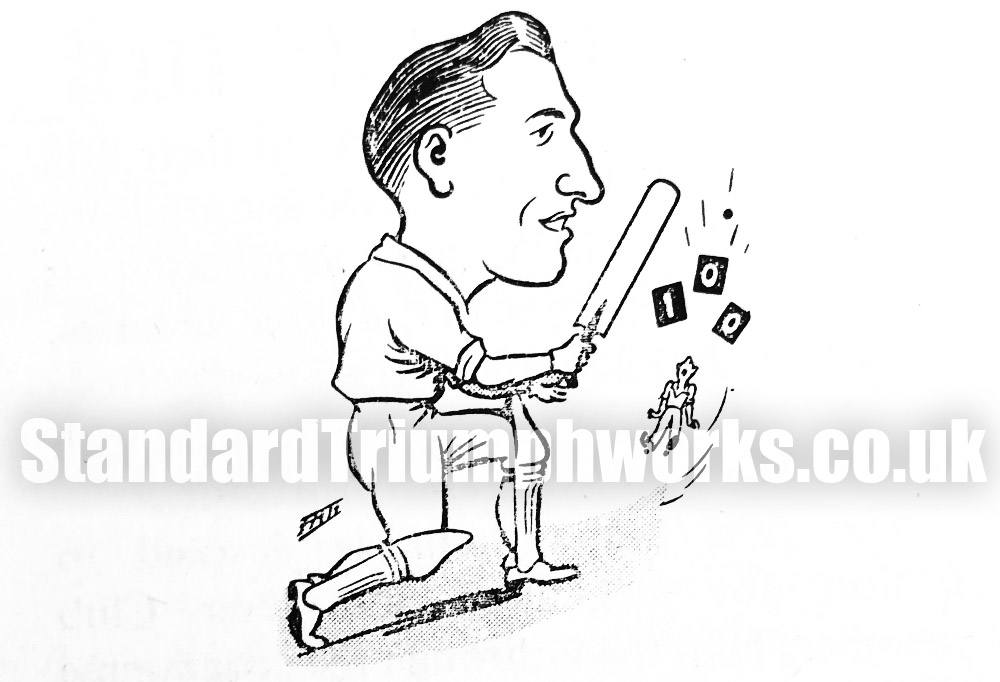 This illustration depicts Doug Haigh. Whilst playing for Canley Staff against No.1 Shop Banner Lane on 3rd July, 1950, Haigh scored 101 runs off 17 overs sending the ball for a four on no less than twelve occasions.
Which one do you think he is on the photo?