A new entry has spurred some extra research. This was submitted:
"My Uncle Arthur Hutt who won the VC worked In The Stores There a long Time Ago"
So, this is what we found out:
He was 28 years old, and a private in the 1/7th Battalion of The Royal Warwickshire Regiment, British Army during the First World War when the following deed took place at the battle of Passchendaele for which he was awarded the VC.

On 4 October 1917, at Terrier Farm, south-east of Poelcapelle, during the advance on the villages of Poelcapelle and Passchendaele, Belgium, when all the officers and NCOs of No. 2 Platoon had become casualties, Private Hutt took command of and led the platoon. He was held up by a strong post but immediately ran forward alone and shot the officer and three men in the post; between 40 and 50 others surrendered. Later, having pushed too far, he withdrew his party, covering them by sniping the enemy, and then carried back a wounded man to shelter. After he had consolidated his position, he then went out and carried in four more wounded under heavy fire.
He later achieved the rank of corporal. He is commemorated with a Cornish granite memorial in War Memorial Park, Coventry.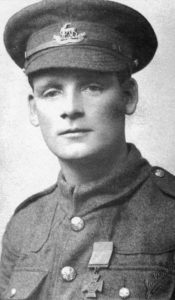 Arthur Hutt (12 February 1889 – 14 April 1954)
More:
Arthur Hutt VC was the first person from Coventry to win a Victoria Cross, the highest and most prestigious award for gallantry in the face of the enemy that can be awarded to British and Commonwealth forces.
Arthur was born in Earlsdon on 12 February 1889. He was a textile worker in civilian life and when the factory he worked for formed a company (called a "Pals" unit) in the Warwickshire Territorials (a militia unit), Hutt joined up. When war broke out, he was mustered into the 1/7th Battalion of The Royal Warwickshire Regiment. His unit saw action during the Battle of the Somme and the Ypres Salient, then Italy, then back to Ypres.