I started work at the Apprentice Training School, Torrington Avenue, Tile Hill, Coventry as a Technical Apprentice / Draughtsman on 26 August 1968.
The Training Manager was Eddie Bishop and the Milling Section supervisor was Mr Wilkes. Bob Patterson from Balsall Common was also on the training staff.
Some of my fellow apprentices who started on the same day as me were Brian Hughes, David Stables and Alan Woodier.
Brian Hughes was the son of Gerry Hughes who was a supervisor in maintenance and Dave Stables was the son of Eric Stables who was Manager Sales and Service Training, based at Radford. Alan Woodier lived in Allesley.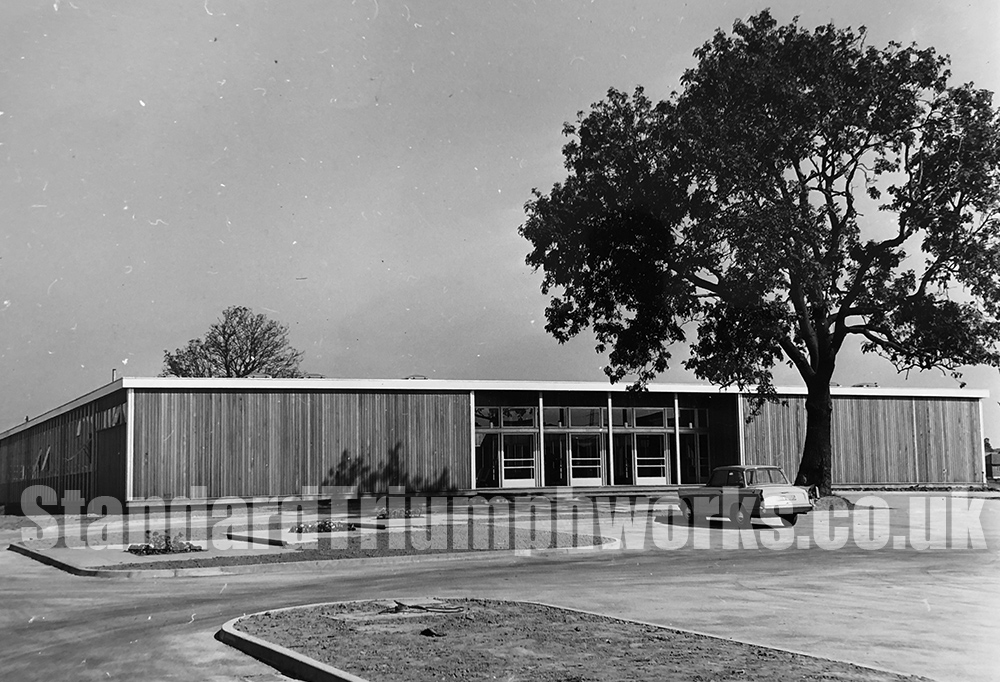 My uncle was Philip Howard Dunn, who was Fleet Sales Manager based in The Kremlin who sadly died in September 1981. His wife was Terry Dunn who worked as a secretary for senior management in the 1950s. My uncle was a great friend of Bernard Roberts and was best man at Harry Webster's wedding.
My uncle worked overseas for the company just after the war setting up CKD plants in India, Ceylon ( Sri Lanka ) Brazil and all over the Caribbean.
My grand father was Howard Milton Dunn who was a toolmaker and who was a shop steward in the Transport and General Workers Union who retired in 1953 having started at Canley in the 1920s and who died in 1979.
I completed my Technical Apprenticeship in 1972 and started work as a Planning Engineer on the Paint Trim and Assembly Section of the Planning Department in Fletch North.
The Planning Director was Walter Robinson and the manager was Vic Ellis and my supervisor was Gordon Bastock, who used to play the trumpet in local Jazz bands in Coventry particularly in the Earlsdon Cottage.
My other colleagues on the Paint Trim and Assembly Planning Section were Gerry Tayton, Cliff Hall who flew Vultee Vengeance dive bombers in the RAF in the far east in WW2, Mickey Speight, Jimmy Ogilvie who still lives in Bretford, Pete Salmon who sadly passed away in about 1990, Pete Martin, Dick Shale, Alan Elliot, Keith Franklin, Martin Vine, Paul Bates, Gath Jenkins,Tony Round and Brian.
Engineers on the Process Planning Section were Jimmy James who lived in Berkswell, Bob Joynes who also worked as a croupier in a casino in Coventry, Bob ????? who left to work in South Africa.
There were other planning departments in the office such as Overseas Planning and the supervisor was Denis Miles and Ted.
The Machine Shop / Powertrain Planning Section's Manager was Bill Potts and the supervisor was Tony Taylor and other engineers on this section were
Dave Mileham, Kevin Smith, John Black, Mick Shirley, Jamie Evans, Harry Robinson. Albert Restall was the cost control clerk who looked after the budgets.
Other colleagues in the office were Jackie Hutt ( Nee Cox ) Sylvia Ball, Denise Amphlett, Rose French, Julie Davies who was a tracer, Bill Gibbons who worked in the photography department, Paul Stanley, Walter Dye of Maintenance at Tile Hill, Eric Schnabel, Denis Owens of the Tinsmiths, Ken Wadsworth of maintenance, Ray Tranter of the Jig Shop and the Canley Works Engineer Lesley Baker.
I would also like to mention two other retired ex-Triumph engineers Martin Cox and David Cook.