A marvellous photo taken on the occasion of Ted Silver's retirement.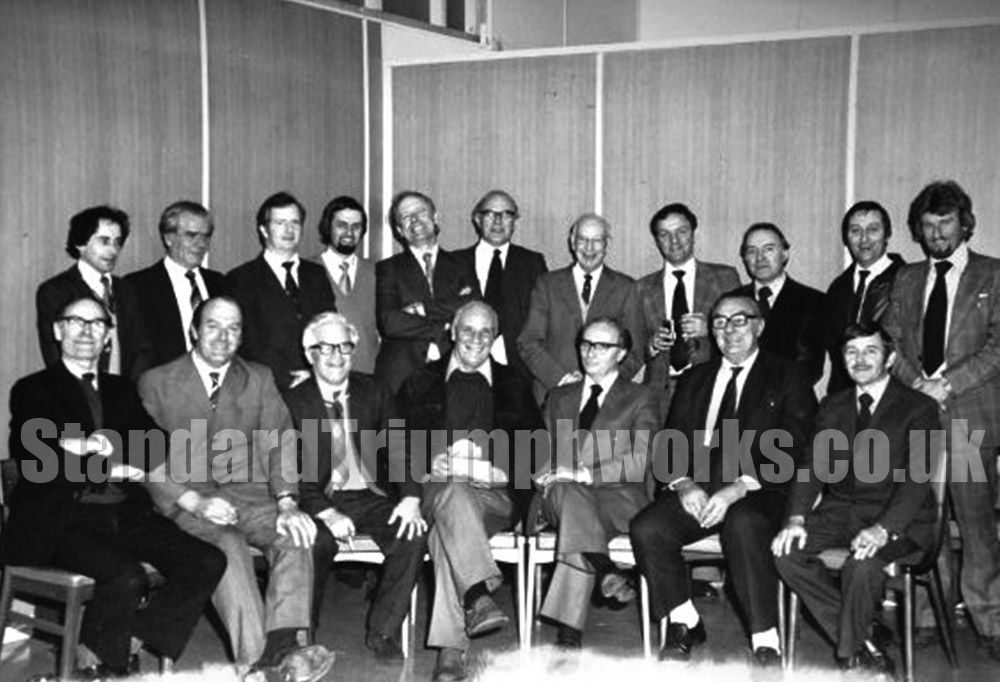 The photo show's Ted (Front Centre) with foremen of Triumph engineering.
Ted was born in Kenilworth in 1917 and was the engine test and build foreman in Fletch north.
Picture back row left to right are:
Unknown,
Dick Haddon who was the engineering emissions foreman he then moved to Rig test at Templar Avenue before joining press and demonstration.
Les Atkins body shop.
Mick Robertson engine test who took over from Ted silver before moving to Longbridge.
Wally Bell detail fitting.
Ray Henderson who became manager of Fletch and Gaydon workshops.
Ernie Porter pattern making.
Colin Rathbone Mira workshops.
Fred Stanley test drivers.
Brian Eadon who took over engine test after Mick Robertson moved to Longbridge.
John Parker rig test
Front row l to r
Harry Bastow press and demonstration
Tim Taylor mechanical workshop
Harold 'Bud' Flanagan prototype build
Ted Silver
John Lloyd chief engineer.
Sid Griffin mechanical workshop
Frank Cridland press and demo.
Update:
Front row – second left Tim Taylor, then Harold (Bud) Flanagan, second from right think is Sid Griffin.
Back row – second from left Dick Haddon, then Les Atkins, behind Ted Silver – Ray Henderson, think next is Ernie Porter. Last three Fred Stanley, Brian Eadon and John Parker.
Submitted by Beverley Szal
5th from left, I think is John Lloyd.
Submitted by Alan Woodier
(Yes we agree, Alan – ED)