Three new directors at Standard Triumph from 1968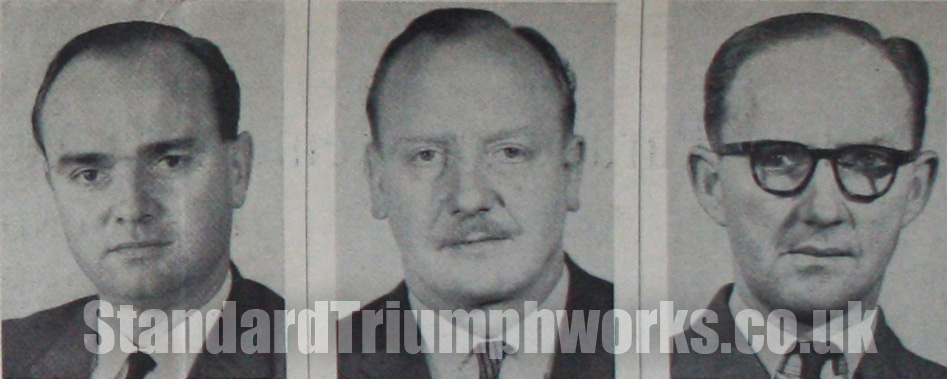 Mr J. B. Reardan who had been Export Manager for Standard-Triumph since 1966, was appointed Export Director. 
John Reardan, who is 44, was born at Exhall, and educated at King Edward VI Grammar School, Nuneaton. After a short period with the Daimler Company, he joined the Royal Air Force and spent most of the war years with air crews in the Far East. He joined Standard Triumph in 1947, and was appointed export commercial executive in 1957.
EIRE DIRECTOR
After Standard Triumph became part of the Leyland Motor Corporation he became Sales Administration Manager in 1962. The following year he was also appointed a director of Standard Triumph (Eire) Ltd.In 1966 he became export manager. He is an Associate Member of the Institute of Export. Mr Reardan is married and lives at Kenilworth. His hobbies are fishing and golf.
Mr W. A. Robinson, who had been Divisional Planning Manager for the past six years, becomes Planning Director.
Walter Robinson who is 49, was educated at King Edward VI Grammar School. Nuneaton. He joined the Company in 1939 and worked in the Planning and Maintenance Department, covering all aspects of planning and product development.
AT BANNER LANE
Appointed works engineer at the Banner Lane factory in 1954, by 1956 he was chief works engineer of the Standard Triumph group of companies. In 1961 he became divisional manager for Planning and Maintenance and was responsible for all overseas planning and production development. In 1964 he negotiated and planned our new assembly plant on site in New Zealand. Mr Robinson has served on committees of the Coventry Productivity Association. He is married, with one son,  and his hobbies are rugby, football and gardening.
Mr. P. J. Graham-White, who had been Manager of Supplies Division since 1961, w. appointed Supplies Director.
Peter Graham-White, who is 54, was educated at St George's College, Weybridge. After working in London, he joined the Company in 1940, on progress work in the aero engine production shops.
In 1942, he became an assistant buyer and in 1946 he moved to Production Control at Banner Lane factory. Later he joined Material Control Department
at Banner Lane which covered materials for tractor and car divisions.
During 1957 he combined the Material and Purchasing departments into the Supplies Division. By 1961 he had become manager of our Supplies Division.
Mr Graham-White is a Fellow of the Institute of Purchasing and Supply, and a Member of the Board of Management. He is a past chairman of the Coventry branch of the Institute. He lives at Warwick, is married with three children, and his hobbies are gardening, and breeding and showing golden retrievers.
ARCHIVE December 1968