On 17 October 1940, Second Lieutenant Sandy Campbell and his team of the Royal Engineers Bomb Disposal Company were called upon to deal with an unusually large and unexploded bomb that had fallen at the Triumph Engineering Company's works in Canley.

War production in the two factories had ceased on a temporary basis because of this bomb and a large number of people living nearby were evacuated from their homes.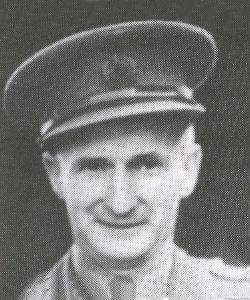 2/Lt. Campbell found that the bomb was fitted with a delayed action fuse that was impossible to remove, so he decided to transport it to a safe place.
That was done by lorry… and Sandy Campbell lay alongside the bomb so that he could hear if it started ticking and could warn the driver to stop and run for cover.
Having taken it to a safe distance, he disposed of the bomb successfully – for this action, 2/Lt Sandy Campbell was awarded the George Cross.
The very next day, 2/Lt Sandy Campbell (aged 42) and his team were killed attempting a similar disposal at Whitley Common and his George Cross was awarded by the King posthumously to his widow, Agnes Sharp Campbell of Dalmellington, Ayrshire. Both he and his team are buried at London Road Cemetery.