Canadian Jack Blair recalls his brand new TR4 and a trip to Standard Triumph to collect it.

In December of 1967, I had travelled from my UK home in Manchester to London in order to join a group of friends on a ski trip to the Tyrol in Kitzbuhel, Austria.  When I arrived I found that my good friend Art had bought a new MGB.  He said he had been looking at the TRs as well, but decided on the MGB.  He added that he heard a rumour that the TR4As were going to have their price reduced to make way for a new model.  That was all the motivation I needed.  With about four hours to go until our train left, I rushed to the dealer, negotiated a deal, phoned Calgary to get the money on a loan from my old, friendly, bank manager and bought my new TR4A for $2700.  I barely made it back in time to catch the train to Kitzbuhel.

It took some time for my loan to arrive through the banking systems of the 60s, but finally the car was ready to pickup in mid-February.
By the time I finalised the payment in February, the new TR5-PI and the TR250 had been announced and the interest in the remaining export model TR4As had collapsed.  Standard Triumph dropped the price to $2400 and I was elated.  I now had $300 to spend on gas and travel in the TR.  You could do a lot of things for $300 (125 pounds Sterling) in Britain back then.
Around mid-February in 1967, Roy, my friend from Manchester, drove me down to the Standard-Triumph factory in Coventry to pick up my new, forest green, TR4A complete with leather seats and wood-rimmed steering wheel.  I had pre-planned a factory tour, so I did that, all the while trying to contain my excitement to get into my shiny new sports car and drive and drive and drive.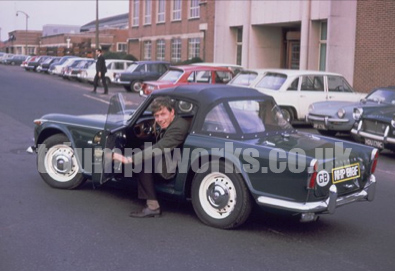 I drove the car throughout Britain and Scotland until I left to come back to Canada in September, 1968.  Those hold some of the greatest driving memories for me; up and down the hills of the Peaks, through the Lake District, and off down the winding roads of the Welsh valleys.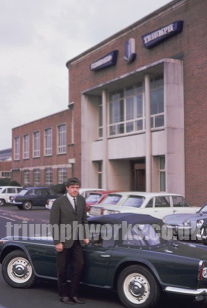 What we have is a great pair of colour photos showing part of the Standard Triumph works. To be honest photos, of the works, seem pretty rare so colour photos are especially great to see. It certainly looks like the staff discount scheme is working better in this photo too with every car being a Triumph!