The most decorated  private soldier in World War One and Police Sargeant at Standard Triumph.
"I knew him over several years in the 60's. He was a works police sergeant at The Standard-Triumph Motor Company. Lovely old gent, quiet, modest and courteous.  I also knew Sergeant Frost, Corps of Commissionaires at Standard. He was an army colleague of Tandey and knew all about his exploits, including the annual post cenotaph service drinks at the Royal Warwickshire Regiment club in the town. Frost said it was the only time Tandey let his hair down and talk. I still feel privileged to have known him."
"We never spoke about his experiences. I sensed it was not go subject. Sgt Frost said Tandey wouldn't talk to anyone about it . Except, as he said, after the Remembrance Sunday drink. And although I was a one-time drinking member of the Royal Warwicks Social Club, I never met Mr. Tandey there. But as I recall, Sergeant Tandey was a very quiet man at his job as works policeman. He would sit there solemnly at his high desk, he spoke very little. I had not long left the RAF myself, so I naturally spotted his VC ribbon one afternoon when collecting my business visitor to the Fletchamstead Sales and Marketing division's main reception. At that time, he knew my name, and I his from his pal Sgt Frost. We were both on strictly formal terms, I Mister, he Sergeant, which was the business norm in those days. It was obvious he was a man who didn't encourage friendly chatting, so I always avoided being too outspoken or personel. I simply asked that particular day, "is that ribbon what I think it is?" He replied "Yes, it's the Victoria Cross". I said "Thank you sergeant, I have never met a VC holder before". And that was probably our first personal conversation! Over time, as I continued with this formal, friendly style, we each got a bit closer. It was always a pleasure and thrill to arrive each morning (a bit late so reception was empty), to be formally greeted by a VC holder.
If I returned after lunch late, I often caught him dozing a little, so I'd slip silently by. Speaking to my office colleagues, it would seem I was the only one at the 'Fletch end' that had anything even approaching a personal recognition with him. Everyone just walked by, managers, staff, visitors alike. But I guess with both wars well gone, and fewer ex-servicemen about, no one either knew, or just wasn't was interested in a secret national hero and outstanding soldier sitting under their noses. "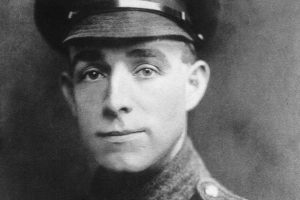 War Service
Henry Tandey  took part in the first Battle of Ypres in October 1914 and was shot in the arm at the Battle of the Somme in 1916. He was again wounded during the Battle of Passchendale in November 1917 whilst serving with the 5th Battalion the Duke of Wellington's Regiment. The war on the Western Front swung increasingly in favour of the Allies in late Summer 1918 and in an almost unparallelled burst of heroics by a single soldier, Henry Tandey won the three highest awards for bravery in the space of six weeks. He was awarded a Distinguished Conduct Medal, then a Military Medal and bar and finally a Victoria Cross for 'desperate bravery and great initiative' in one of the final battles of the war.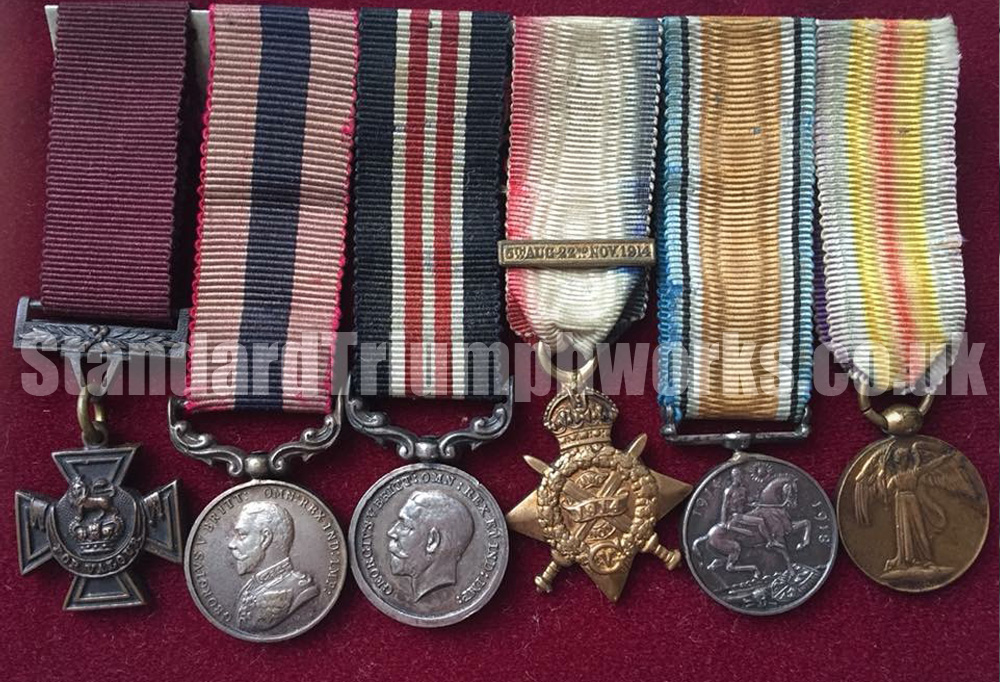 He was also mentioned in despatches five times and on one occasion was told by a senior officer that his bravery could not adequately be rewarded because he had already won all the gallantry medals available. He was presented with  his Victoria Cross by King George V at an investiture in Buckingham Palace in the week before Christmas 1918.  After the war, Henry Tandey was employed for a period by the Army on recruiting duties. In 1919 he was made a Freeman of the Borough of Royal Leamington Spa and was presented with an illuminated scroll and an engraved silver-gilt casket. On Armistice Day 1920 he took part in the service for the burial of the Unknown Warrior in Westminster Abbey where he was one of a hundred holders of the VC who were selected to line the nave of the Abbey as the guard of honour.
And there is more…
Henry and the Hitler story
Twenty years after the end of the Great War, a story began to circulate of how in the earlier conflict Henry had spared the life of a certain German infantryman who came into his gun sights one day. According to the story, the man whose life Henry had reportedly spared was a German regimental despatch runner by the name of Adolf Hitler. The tale has been recounted any number of times over the years in newspaper and magazine articles and has been further embroidered in the process. The military historian David Johnson has researched the incident in great depth for his book 'One Soldier & Hitler 1918′ and has concluded that no part of it could be proved to have taken place.
Henry gave up soldiering and returned to civilian life in 1926. He got married for the second time to Edith Warwick and the couple moved from Leamington Spa and settled at Cope Street in Coventry. Henry got a new job working for the Standard Motor Company as a commissionaire, a job he would hold for the for next thirty-eight years. During the Second World War Henry was a Coventry Air Raid Warden and on the night of the German bombing on 14 November 1940 he returned home to Cope Street in the early hours to find that his house had been destroyed. Fortunately his wife Edith was staying with her sister in Leamington on that particular night.

Henry Tandey died at home in Coventry on 20 December 1977 at the age of eighty-six after suffering from cancer. His final wish was that his ashes should be scattered at Marcoing British Cemetery, near to where he had won his Victoria Cross and where many of his wartime colleagues were buried but for a variety of reasons this was not possible. The casket containing his ashes was buried without ceremony in the British Cemetery at Masnières in October 1978. In September 2012 the Leamington Town Council erected a Blue Plaque to commemorate him on a building in Kenilworth Street close to where his birthplace had once stood. It was unveiled ninety-four years to the day since he had won his Victoria Cross.