Following on for the previous post here are a number of photos of the Standard Motors Rugby Football Club team (SMRFC)
The dates* indicate thirties to forties and show a number of players featuring again on each photo. We'd love to put names to these team members (and officials) – can you help?
The first team was initiated by Cash's Lane in November 1931 who, at the time,  held the whole of the inter-departmental trophies (Football, Swimming and Cricket). The very first match was between Cash's Lane and Canley and it took place on Saturday November 21st, 1931. Cash's Lane won the match 16pts to 8pts. From which, a Standard Motors Rugby Football Club was formed (in addition to the department teams) with two teams (a first and second team) with the Hon. Secretary being L.W. Vincent (Chassis, Canley).
(Perhaps Vincent is on some of the photos? ED).
Firstly, let's look back at this (below) – we like the 'team bus' which says Standard Motors and the team can can be seen here pre (or after) a match.  A shirt can be seen with SMRFC (and the number 15) with Jock Brown  holding. Do you recognise anyone else?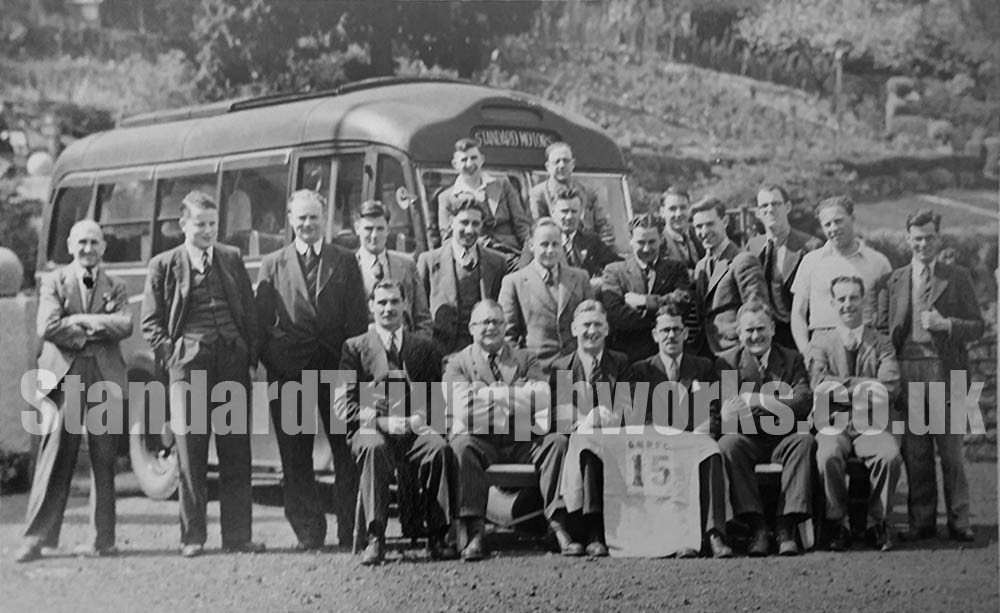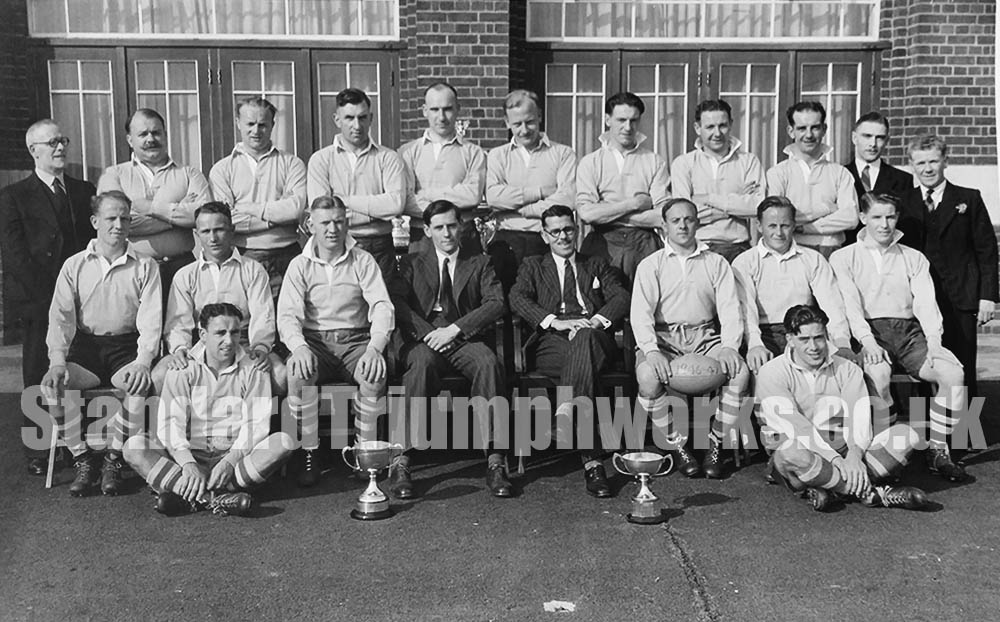 (Above) In the middle row is Alick Dick and Jock Brown (Suited).
UPDATE: Don Sproul, 2nd row, second from left, great friend of our family, great picture!
Submitted by Maureen Holmes, who also recognises her Dad, Wal Jones on another photo (Coming Soon).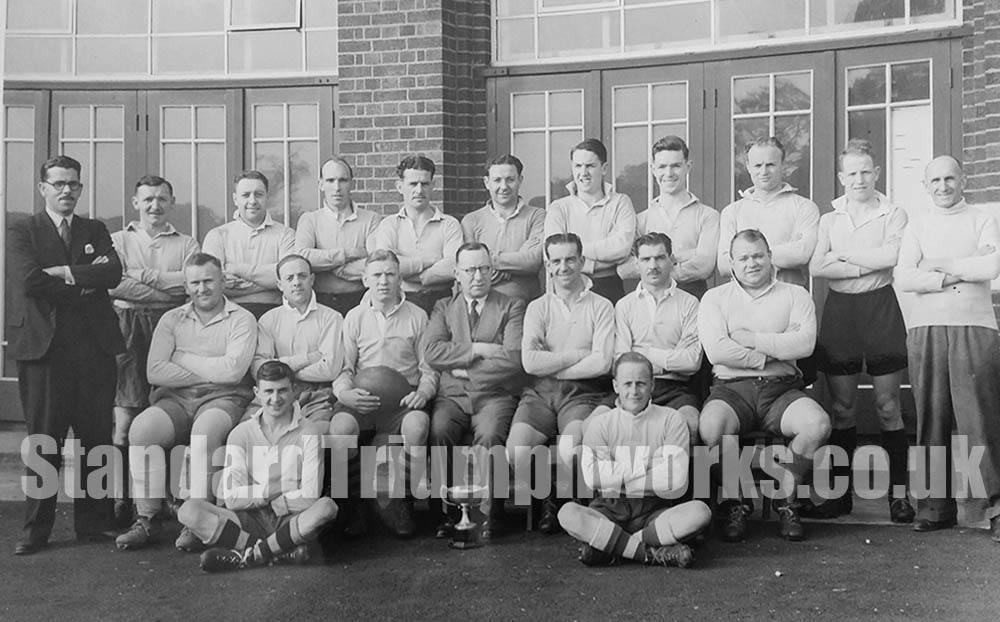 (Above) Jock Brown can be seen on the left with Bart Turnbull (in the suit) in the centre.
ED. Does this help, dated (later 1948) a team line up.
*UPDATE: A close up of the ball in this photo reveals the date: 1946-1947 (Season).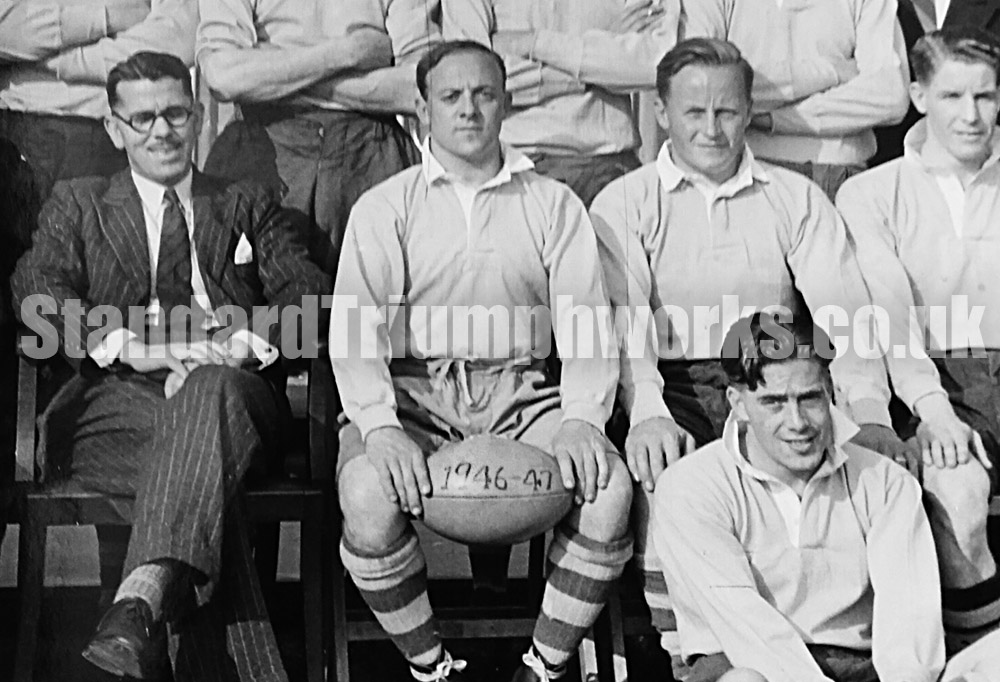 Added Ref:
Albert Gascogne (English International) coached the team. MORE HERE
More… "I played in the sixties…
I wasn't an employee. My father was. I lived close. Some names I can remember:- Des Willis, Mike Scobie, Roger Ireland, ? Hushcroft, ? Ashcroft. ? Lawson, John Carter, Terry Carter, Alan Townsend, ? Jameson, Paddy Wray, Ernie Fulleylove, Charlie Mullen, Ian Oliver, Colin Higson, Bill Bullivant. All were members in the 60s. Drawing a blank now. A little before my time with the club there was Bert Godwin who went on to play for Coventry and England."
Submitted by Alex Milne