"Held up as the best," says the famous Atkinson's advertisement. And no exception is "The Standard," the new Atkinson's public house at Eastern Green, just down the road from Standard's Banner Lane factory on the outskirts of Coventry.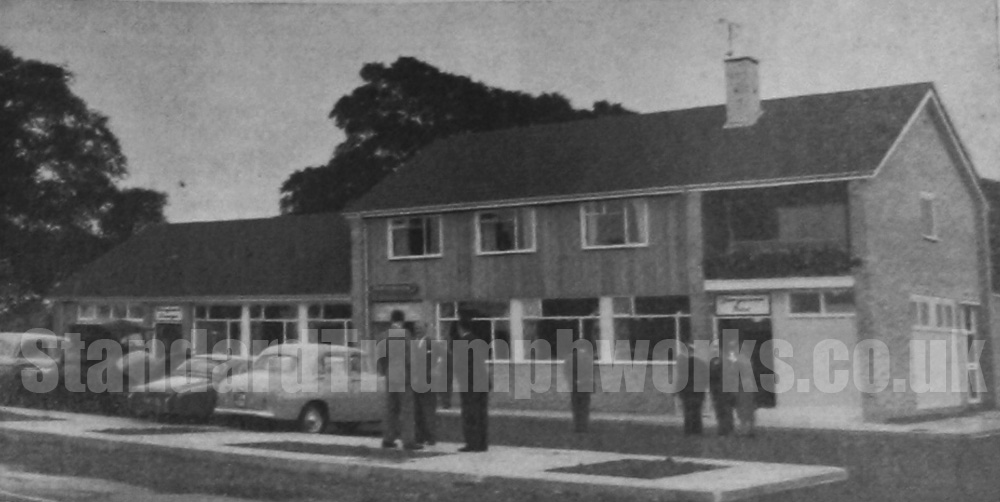 Built in attractive contemporary style—as can be seen from the picture—"The Standard" was the scene of a convivial gathering a little while ago when Mr. A.S. Dick, Managing Director of The Standard Motor Co. Ltd., was invited to perform the opening ceremony. The bars are appropriately named—the Vanguard Lounge, the TR Snug and the Ferguson Bar—and they are decorated with murals and pictures of the Company's products through the years. The picture also shows some of the vehicles which were on show for the opening ceremony, and which ranged from the black-hooded 1906 30 h.p. giant on the left to the new Ferguson 35 tractor standing next door to it.
ARCHIVE: August, 1957
***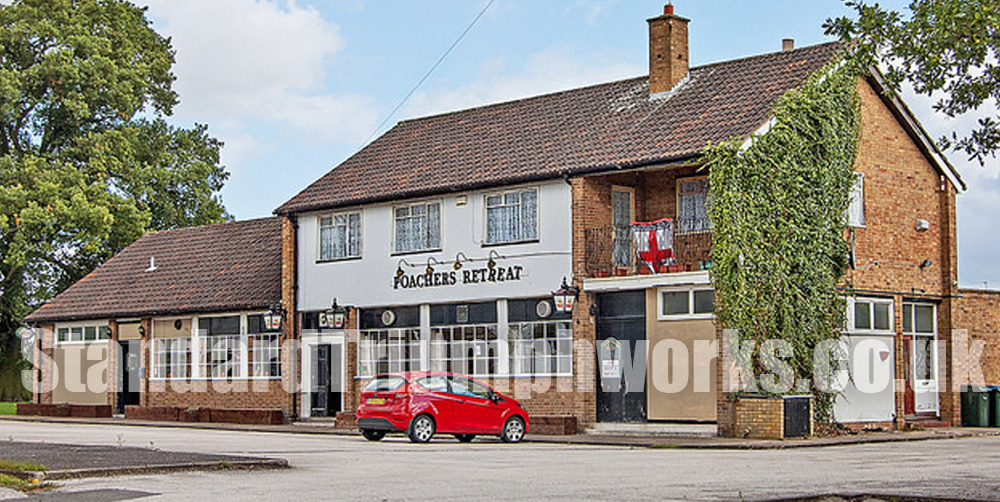 UPDATE:

It seems that another public house may be fed into the jaws of developers – namely the Poachers Retreat, on the corner of Hockley Lane and Upper Eastern Green Lane. Like others before, it could soon disappear and be replaced with new developments. The inn was opened some 53 years ago by Sir Alec (SP – ED) Dick, then managing director of the Standard Motor Company. The inn was aptly called The Standard. So closely was the motor car firm identified with the Atkinsons-owned pub that rooms were named Ferguson Bar, Vanguard Lounge and TR Snug.
I have frequented the establishment since the early 1960s, playing dominoes in the bar and enjoying a sing-song to the piano on a Saturday night in the lounge. In the mid-1980s, Mitchells & Butlers changed the name of the pub to the Poachers Retreat. This was inspired by the local village lads quenching their thirsts on a Sunday morning after spending several hours in the surrounding countryside with their guns ferrets and lurchers.
The pub has gone through many highs and lows in past years. The present gaffer has tried hard to bring the clientele back and it would be a great shame if – or when – Time was called for the last time. If the demolition of the pub does take place I hope that any preservation order on the centuries old oak tree is maintained as this is a landmark in the Upper Green area.
Les Neil
The pub was demolished in 2012 and replaced by housing. (ED)