Sir Charles Ernest Hain Friswell (1871–1926), Managing Director of the Standard Motor Co and Friswells.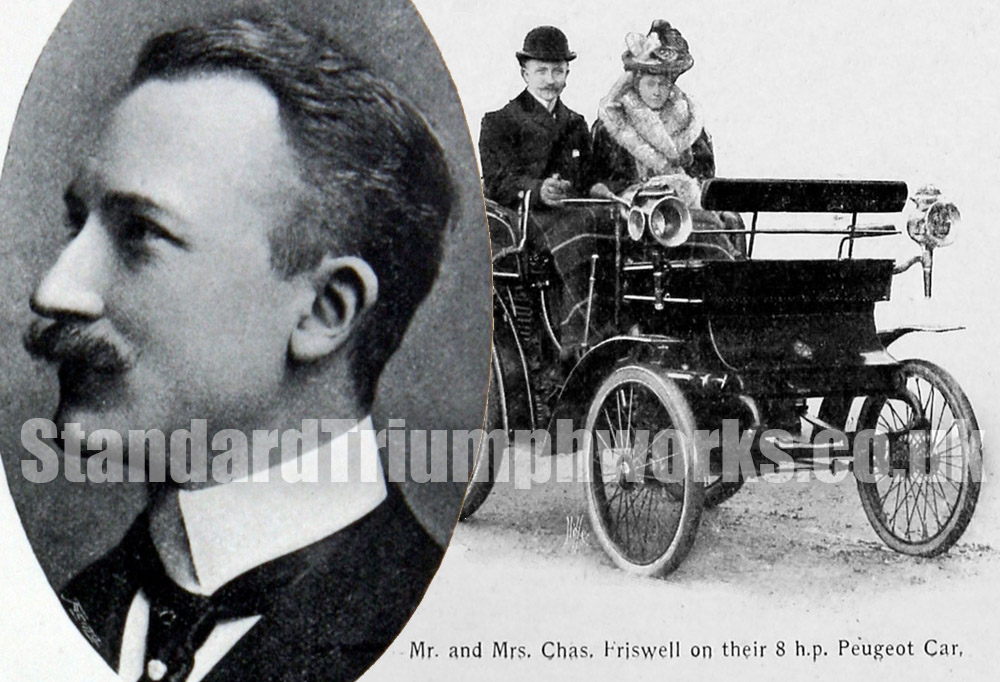 1871 December 30th. Born at 17 Buckingham Street, Marylebone, the son of George Friswell, advertising agent, and his wife, Jane Street. He married Edith Kate Frewer – they had no children.
Friswell entered the world of the automobile from that of the cycle, at first combining an agency for cycles with other business interests.
1896 Established Friswells Ltd in London, specializing in imported French Peugeot cars
1901 He had become a prominent figure in the automobile business, so he was selected by the Automobile Mutual Protection Association Ltd to fight a test case against H. J. Lawson's monopolistic British Motor Traction Company Ltd., in which he succeeded. By this time he was operating on a large scale: Friswell's Automobile Palace Ltd, a five-storey building, could accommodate hundreds of vehicles in garage and showroom space, with repair and paint shops, accessory sales and auction facilities, and other provisions for the convenience of the clientele.
1901 Living at 35 Madeley Road, Christchurch, Ealing (age 29), an Engineer and Employer. With his wife Edith K. (age 29). Plus three servants.
1901/02 Instrumental in overturning the Maybach carburetter patent.
1903 Journeyed to Russia, where he dug the Passe Partout car out of the frozen snow at Nivigovorod, and brought it to England.
1904 FRISWELL, Charles, 1, Albany Street, London, N.W.; Holborn Viaduct, London, E.C. Is managing director of Friswell, Ltd.
1905 He was made sole distributor for Standard cars (presumably through Friswell (1906) Ltd) and became chairman of the company.
1909 November. He was knighted in recognition of the part he played in entertaining delegates to the Imperial Press Conference, and also for his having arranged for hundreds of London's horse-cabmen to be retrained as motor car drivers at his own expense.
In mid-1912 Friswell's sole agency agreement with Standard was terminated and, soon after, his offer to buy out Reginald Maudslay, founder of Standard, failed. Friswell sold his interest in Standard to C. J. Band and Siegfried Bettmann, the founder of the Triumph Motor Cycle Company.
1915 His reconstructed dealership, Friswells Ltd, went into voluntary liquidation in November 1915. Friswell left the motor industry.
He died on 15 December 1926 at Eagle House Nursing Home, Woodford Green, Essex. He was survived by his wife.
1926 Died aged 54 years. Formerly Managing Director of the Standard Motor Co. Married in 1915 to Edith. He travelled extensively in India and South Africa.